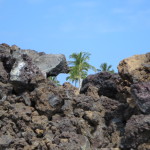 Our three full days in Hawaii began with a completely planned day and ended with one without any specific plans whatsoever. (The partial days included travel, which is difficult to plan around.) I'm definitely a consummate planner, so I was nervous about how the unplanned day might go. While it was not without its share of disappointment, it turned out to have wonderful highlights all its own.
We began the day traveling south towards Kailua-Kona, with the intent of checking out the Kona coffee region. We made a quick stop at a scenic overlook we'd been passing every time we drove south. The overlook, however, turned out to not be as scenic as we might've hoped. After briefly toying with the idea of walking to the water, we decided it was probably further than it looked, so we hopped back into the car and continued on our way.
A bit south of Kailua-Kona, and a slight ways up the mountain, we ended up at the Holualoa Kona Coffee Company (recommended by a guide book that had been gifted to Gina). We got a brief introduction, then were allowed to wander through a small clutch of coffee trees. There was a fence separating anything further than the first few rows of trees, behind which we were warned not to wander too far, as there'd been a mama boar sighted recently. (Apparently, they can get pretty violent.) On our side of the fence, there were just chickens. Lots of chickens. We saw chickens all over the island, but this turned out to be the chickeniest of all our days there.
Afterwards, we got a brief tour of the small roasting room (where we learned the difference between air roasting and drum roasting), then did some tasting in a separate room. It was, as we pretty much expected it to be, delicious. We ended up buying coffee for ourselves and others, along with a coffee scrub they had. The only thing that interested us that we avoided was the chocolate-coated beans—tasty as they were, we were afraid they'd melt during the day. After a brief credit card snafu (pretty sure their machine wasn't working properly), we were all set.
It was about lunchtime at that point, so we asked for a recommendation at the coffee plantation, and ended up backtracking just a little ways to the outskirts of Kailua-Kona and Umeke's for a fantastic poke bowl.
This is now the third time I'm mentioning poke, so I should explain for those unfamiliar. Poke (two syllables: poh-keh or poh-kay) is sort of the Hawaiian answer to sushi. It's raw fish, cut into cubes, tossed together with soy sauce and sesame oil, and frequently other ingredients such as onion. It's generally an appetizer salad, but throw in some rice, and it can be a meal. I really enjoyed it (I even made it once already since we've been home).
---
After lunch, we started heading towards Captain Cook, hoping we'd find something interesting (and potentially, y'know, related to Captain Cook himself, there). Finding nothing beyond the difficult-to-approach Captain James Cook Monument (accessible only via an hour-long hike), we opted for the Amy B.H. Greenwell Ethnobotanical Garden.
And, cue first major disappointment.
The completely empty parking lot should've cued us in that this wouldn't be much of an attraction. After paying our $7 fee (each), and taking a printed guide in hand, we wandered into the garden. Maybe it was a poor time of year to be there, but it looked to me like a whole lot of dead plants, poorly marked paths, and inefficient (and leaky) irrigation strewn about. There were a few interesting highlights (and a lot more chickens), but very few. After 5 or 10 minutes of wandering around, it started drizzling. Then, raining. At that point, we just gave up.
Granted, with the cost of things in Hawaii, $14 isn't that much of a waste. But it was certainly a disappointment going back to the car. We sat there for a few minutes as it rained, planning our next move. What we settled on turned out to more than makeup for the setback, at least for me.
---
We somehow stumbled across a location dubbed "Shoreline Park," though I can't recall if it was via the guidebook or a random GPS find. It appeared to be a bit north of us, a chance for a beach, and on our way back to the resort. Pulling off the highway at the designated location, we were met with a small guard booth leading into what appeared to be a residential neighborhood, nowhere near a shore.
Inquiring as to whether the GPS had led us astray, we were told that this was indeed the entrance to Shoreline Park, though the guard didn't think "park" was an adequate description. There was no beach, it required a small walk, and was "mostly for surfers and the fishermans." Undeterred, we got a hang tag for parking, and headed down the road.
It did head through a residential neighborhood (which we were specifically told not to explore), skirted a golf course or two, briefly turned into a gravel road, and ended at a small parking lot. We ventured into the heat (it was a very humid day, nearing 90 degrees), and after a little difficulty (including practically wandering out onto a golf course), the path opened up into a gorgeous view of lava rock fields heading off into the Pacific Ocean.
To me, this was easily the most amazing thing we saw on the trip. I started clambering over the rocks, jumping from one to another… looking at the various views, seeing where the ocean had carved little gullies, marveling at the little pockets of sand scattered about… seeing the occasional black crab scurrying along the black lava rock, nearly invisible… it was quite an experience.
Eventually, I found a spot to reasonably easily climb down where we could get to a safe landing proximal the ocean. So, although we never did manage to get to a beach, we did get to a place where Gina was able to touch the Pacific Ocean for the first time. And for me, this was some of the most breathtaking scenery I've ever seen….
Leaving was the problem. We neglected to bring our bottle of water from the car, so we were beginning to overheat. On the short hike back, Gina nearly passed out. It hit me during the drive, and I was a wreck by the time we reached the resort. Fortunately, after closing my eyes for five minutes or so, I was able to rally for dinner.
---
Given our exhaustion, we opted to stay nearby the resort for dinner. Using Gina's guidebook again, we ended up at Roy's Waikoloa, a small area chain founded by a CIA-trained chef. It was a bit more expensive and upscale than where we'd been, and quite delicious. Gina got a prix fixe three-course meal, and I opted for a Hawaiian style mixed plate with Szechuan pork ribs and Teppan-yaki shrimp. Everything was great, but Gina's chocolate soufflé—which she was kind enough to share—was a definite standout.
It was a great way to finish out a great trip. We headed to the airport after checking out the next morning, which was less than pleasant. Kona International Airport is all outdoors (save a few shops), and it was unpleasantly hot. Sitting at a gate in an air-conditioned airport awaiting a flight is bad enough… outside, without sufficient available seating, is much worse. But, we survived, and landed in Seattle, where I quickly realized I'd forgotten to make hotel reservations. I corrected that error via my smartphone as we awaited a gate on the tarmac. We managed to catch a hotel shuttle with perfect timing, enjoyed an upgraded room (and by "enjoyed" I merely mean "slept in"), got up with the sun to catch our flight home, shared a shuttle bus with some griping flight attendants from various airlines, and before you can say "please return your seat backs and tray tables to their original upright and locked positions," it was all over.
It was a fantastic trip, and we couldn't really have asked for more. In October, we pile into the car for a driving trip. And while I'm already excited for that, I'll be basking in the Seattle/Hawaii glow for a while!