Yes, it's happened again… I convinced my wife Gina to return to Walt Disney World for our fifth trip, five months after our last trip, to celebrate our fifth anniversary, before the fifth performance of the show I was directing. I sort of had to sell my soul for this one: I've agreed to not ask to return—to any Disney park—for two years (it's not that we can't return, I just can't ask to do so). So, hopefully I've packed in enough memories to satisfy my Disney desire for a couple of years. Of course, at my age, two years doesn't seem like that long of a sentence. Plus, Gina started prompting us to look into Disney Vacation Club, so I can keep the magic alive for the future.
I had a little trouble booking the flight for this trip… or at least booking seats. When I bought the flight, the only spot with two seats together was in the ChoiceSeats section. After checking daily for seats to open up, and watching the entire flight get booked, I ponied up for the ChoiceSeats—one window, and one center. Thankfully, when I checked in the day before the flight, the exit rows were open, so I quickly switched into legroom heaven… and US Airways even refunded the ChoiceSeats fee, which frankly shocked me. While we waited at the gate, they practically begged folks to take the remaining exit rows… lots of kids on the flight, and no one under 13 can sit there!
We arrived about an hour behind schedule and quickly checked into our room at Disney's Beach Club Resort. We've previously stayed outside the park, at Wilderness Lodge, and at the Contemporary Resort. This was undoubtedly the best place we've stayed, in no small part due to its walking proximity to Epcot
(especially great during the Food & Wine Festival, which was one of the reasons I'd wanted to go back around our anniversary). After a quick stop at the room, we walked into Epcot, stopped for a quick bit and beverage—I couldn't resist trying the vegetarian haggis (embarrassment to even call it haggis) and the 18-year Glenfiddich (excellent)—then headed onto the monorail for Magic Kingdom.
We arrived too late for our Haunted Mansion FastPass reservations, but managed to get on the always-fun Big Thunder Mountain Railroad in time. As it turned out, the majority of our rides this trip were on FastPass; things were well planned, and this way, there was no rushing!
There wasn't much time before our dinner reservations, so we dodged out of the park fairly quickly, stopping for a bit of shopping and photo ops on our way. Dinner was at the Grand Floridian Cafe, and was probably the worst dining experience we've ever had at WDW. It took about 15 minutes to get up to the front of the line to check in for our reservation, at which point we were told we were too early (admittedly, we were there about 30 minutes before our reservation). We killed some time in the resort, went back when they told us we could, only to have to wait in line another 15 minutes. Then, we were given a pager, and had to wait about 40 minutes more, bringing our entire wait time to well over an hour before getting seated. The service was slow (not entirely rare for a WDW restaurant, though they're usually apologetic about it), the food was poor (my pork chop was somehow both fatty and dry, and Gina said her shrimp and grits was unremarkable). It left us both a bit cranky, but we finished as quickly as we could, and headed back into Magic Kingdom.
Our final FastPass for the day was for Peter Pan's Flight, which we usually skip due to the long lines. We'd also planned to stick around for the Main Street Electrical Parade and Wishes Spectacular fireworks show (as we'd done on our last couple of visits), but decided the day had been long, and we wanted sleep instead. Instead, we got whisked around behind the Main Street buildings, in a normally cast-member-only pathway… which had a decent view of the fireworks itself (there was a section of chairs set up back there, I imagine for folks with some sort of behind-the-scenes tour). Interesting stuff. We snagged a bus back to the resort and rested up for the next day.
---
Day two saw us meeting up with local(ish) friends, hitting the newer parks (Animal Kingdom and Hollywood Studios), and meeting up with more friends for dinner. We started with one of our few long line waits, at Expedition Everest in Animal Kingdom. Always a great roller coaster, and certainly worth the wait… long a wait though it was this time around. We managed to meet up with our friends after that—including the Japanese exchange student they've been hosting—and grabbed some lunch at the quick service section of the Yak & Yeti restaurant (where I had some delicious chicken fried rice). We then headed off to wait in another line for the Kilimanjaro Safari ride, where we got our usual plethora of good animal pictures.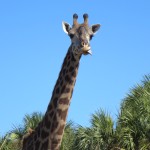 After the safari ride, we took our friends' car over to Hollywood Studios. There was some debating about plans, since we had FastPasses to use, and we ended up splitting up for the afternoon, with plans to get back together with everyone for dinner. We had an uneventful day of FastPassing Star Tours (our best combination on there yet) and Rock 'n' Roller Coaster (one of my favorites) and waiting in line for the Great Movie Ride (which seemed a bit better than I'd remembered it). Hollywood Studios tends to be my least-favorite park, slightly outdone by Animal Kingdom, so a half day at each was just perfect.
We got back to the room in time to clean up and change before getting a ride over to dinner from our (extremely helpful) friends. Our reservations for everyone were at Shutters at Old Port Royale, in the Caribbean Beach Resort (I made the reservations thinking the restaurant was at Beach Club Resort, which would have been way easier). We were warned that this place might not be that great… but it turned out to be fantastic!
Gina was able to start off with a pre-dinner glowing drink… not the glowtini she usually gets at The Wave (yes, it's been done enough to say "usually"), but still enjoyable. Plus, the service was great (they even split up the bill with no problem, which is not common at WDW), the food was tasty, and the company was fantastic. As if all that weren't enough, we even had a slight view of the Epcot fireworks from the parking lot as we said our goodbyes! Top that off with another generous ride back to our resort, and it was a great end to a great weekend. But the trip had more to come!