Welcome to the first of (maybe) several reviews on breweries and brewpubs I've visited. I hope to touch on all aspects of the experience—including food, where applicable—though I plan to focusing on the brewery itself first, their brews that I've tasted second, and everything else after.
First, an introduction for those who don't know me. I've been a home brewer for about three years, starting with a Mr. Beer kit and slowly working my way up to more advanced equipment and recipes. I'm no expert, but "intermediate brewer" is probably appropriate. I've been drinking beer for longer than I can legally admit. My tastes tend to lean towards darker brews—brown ales, porters, stouts—but I'll try (and have enjoyed) almost anything. In short, I'm just a man with an opinion.
Now, on with the show!
---
I stopped at Dogfish Head Brewery at the beginning of a week-long vacation, in the middle of a long day of driving. My wife and I met up with some friends, who had already put all of our names in for the brewery tour.
There was a bit of time before the tour we got on started, so we grabbed some lunch at Bunyan's Lunchbox and settled in with the first of our tastings. The menu at Bunyan's Lunchbox is pretty limited—really, the name kind of says it all—but I had a beer-infused bratwurst (one of several types available) and a side of hop-pickles. The pickles were a bit spicier than I'd expected, but the brat tasted fresh, nicely seasoned, beautifully cooked, and had a great "snap" to its bite that I enjoyed.
Then, there was the beer.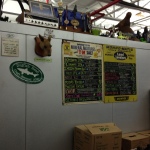 First off, Dogfish really knows what they're doing with the tastings. They have a full tasting menu available, of which they let you choose four (or perhaps it was six?). And believe me, with some of their offerings, it's very difficult to narrow that down (even if it was six). They're best known for their 60 and 90 Minute IPAs, but their regular brews include a gluten-free offering, a Belgian made with organic orange and fresh lemongrass, and few beer-wine hybrids. Throw in their non-regulars and other special brews, and they truly earn their "Off-Centered Ales" monicker.
Among the tasting highlights was their Theobroma ale, a lighter ale brewed with chocolate, honey, and chilies. It has a slightly sweet flavor, a great smooth mouthfeel, and just a little bit of spice that lingers on the palate. We brought a large bottle of this home, along with a bottle of the Red & White (which was unavailable for tasting).
As enjoyable as the food and beer tasting was, the tour was the real treat.
What stuck with me most on the tour was just how clean everything was kept. The steel pipes were all gleaming, there was nary even a bit of condensation, nor a single hop leaf on the ground. I'm not saying every surface was clean enough to eat off of, mind you, but these are surfaces that never come into contact with any of the beer ingredients… and it was clear they knew they'd be bringing tours through and wanted their best foot forward. Granted, the tour did not venture into the most heavily used areas of the brewery, but it did give a nice overview.
The tour had its boring parts (at least to those of us who know a thing or two about the brewing process), but also some fascinating background information. For example, the founders of Dogfish were English Lit majors in college, like myself (most evident in the huge Ralph Waldo Emerson quote on the back of their building, pictured at right). Go figure. Perhaps there's a future for me in brewing, after all.
We made the full rounds of tanks, pipes, and even a walk over to the bottling area. I was as impressed with their facilities as I have been with their beers. Clearly, these people know what they're doing… and they do it rather well.