My home brewing hobby is foremost in my mind these days, as I try to get a few sessions in as autumn turns to winter. I'm also trying to sharpen my skills, get to a point where I'm more method than madness, and ensure consistent results.
Last weekend, I started in on the hard cider first thing in the morning. It was a pretty straightforward process: bring cider to a light boil, dissolve in some brown sugar, add spices. There seemed to be few hitches.
One early issue was amount. Those Mr. Beer kegs I referred to last time, which I use for fermenting, hold 8.5 quarts. For whatever reason, my brain keeps wanting to translate that as 2.5 gallons. So, we bought three gallons of cider. Not a big issue, as we'll have no problem drinking the extra gallon.
Another issue was sediment. The cider that Highland Orchards sells is delicious (though this batch wasn't their best), but it is unfiltered. Lots and lots of apple pulp. I made some attempts to skim this off while boiling, but I'm not sure that was the best idea. There's no way my hard cider will be clear in the end, and skimming off the apple pulp may have skimmed away some apple flavor (and fermentable sugars).
The final problem: bees. Unsurprisingly, boiling sweet cider attracts what few bees are still about in the autumn weather. I'm not allergic, but I am phobic (which, yes, is different from just being afraid of bees… I react before thinking). I dealt with them surprisingly well for the most part, though my wife did have to chase away one stubborn guy just before I brought the keg in once it had cooled.
We should know if the cider turned out in a week or so, then it's on to carbonation.
---
Next up is the Winter Brown, which I'm hoping to take care of this Sunday. I picked up the ingredients for both that and my IPA redux last week… and had a slight disaster. I was smart enough to bring a cooler and ice pack with me to hold the yeasts and hops. I then put that on my kitchen table when I got home, meaning to transfer to the fridge that night… and forgot.
So, I'm hopeful that all but one yeast pack survived, but it's risky. I got a new packet of yeast (a dry yeast this time, which I don't often use) for the Winter Brown, and moved everything else to the fridge. That might change the beer overall, but they're similar yeasts, so I'm remaining optimistic.
I also took a plunge into the digital world and purchased Brew Pal, a home brewing iOS app yesterday. I've tried some free apps and didn't love anything, and I figured the price of Brew Pal was low enough to give it a try. So far, it seems good, but I've only inputted a couple of recipes. The real test will be on brew day!
---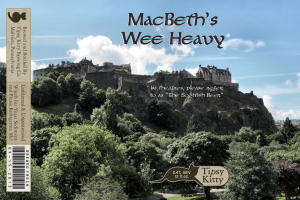 The latest brew to be completed is my MacBeth's Wee Heavy, and I could hardly be more pleased with how this one came out! It's a Scottish Wee Heavy (or a Strong Scotch Ale, if you want to get BJCP-technical). It's a fairly straightforward dark ale, brewed with a peat-smoked malt, and conditioned with toasted wood chips that were soaked in scotch (a small amount of which I brought back from Scotland). The peat malt, while not technically traditional for a Scottish Ale, gives it a nice smoky flavor. The wood chips are supposed to replicate aging the beer in a scotch barrel, and it gives it a nice, complex, woody flavor.
There was a slight carbonation issue with this one. The first test bottle I pulled was very low on carbonation, but that was easily remedied by shaking the remaining bottles up and boosting the temperature at which they were conditioning for about a week. Now, perfectly carbonated, and delicious!
I think there's a decent chance I'll repeat this recipe eventually, though I may reduce the smoked malt a bit, as it somewhat overwhelms the palate at first. Still, one of my best, and that always makes me happy!