One of the nicer things about this cruise is it gave us a solid two days in Edinburgh. The other cruises that we've taken were just a single day in each port (and sometimes an extremely short day at that). This setup gave us time to get our bearings and really appreciate Edinburgh. So, on the morning of day two, we walked off the ship, took a quick shuttle bus ride back to Inverkeithing, and hopped onto the train to Waverly Station and the heart of Edinburgh!
On our second day in, we spent most of our time in the newer section of the city. We went into some shops (including possibly a little too long in what was simply a Scottish department store), and eventually found ourselves roaming the Scottish National Gallery. There was a nice mix of paintings and sculptures, familiar and unknown, so we wandered in there for a bit longer than we expected we would. Eventually, we figured it was time to move on… and we were getting a bit peckish.
We wandered into one of the few touristy shops on Princes Street, which turned out to be one of the best touristy shops we hit all trip, Romanes & Patersons. As we bought a couple of gifts, the peckishness turned to hunger, and conveniently, the Sir Walter Scott's Traditional Tea Room was right above the shop. Gina got herself a tomato and mozzarella sandwich and a traditional tea, I got a Balmoral chicken sandwich, and ended up with a scone and tea as well.
So… yeah… second day in Scotland, feeling good, feeling like I belonged, what did I feel obligated to do? Balmoral chicken sandwich was chicken and… haggis. Had to try haggis. And I liked it! There was a slight gamey taste to it, and a touch of anise, but with the chicken and everything it all blended quite nicely.
And the views we had during this meal were absolutely incredible! As a Scottish flag fluttered in the breeze outside the third-floor window, we looked out over an open space opposite the shops on Princes street, across to the Scottish National Gallery and various monuments, and up to Edinburgh Castle sitting majestically atop the volcanic Castle Rock. Originally chosen mostly out of desperation, this turned out to be a thoroughly enjoyable and incredibly relaxing meal. After finishing our lunch and our tea,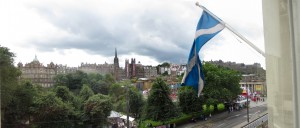 we ended up returning to the shop downstairs for some more Scotland swag (I acquiesced and bought a Robertson tartan tie for myself… I'm not really Scottish, but my surname can be traced back to that clan), and then we ran back in a third time when we found a perfect hat for the show I'm directing just before we walked out the door.
At this point, it was Gina's turn to not be feeling that great, so we headed back into Waverly station. Again, my instincts somehow kicked in, and as Gina waited at the information desk, I was able to quickly ascertain what train we needed to be on, buy tickets at an automated kiosk, and locate the platform we needed. You have to understand, this is very unlike me. Scotland was special somehow.
We made it back to the ship with enough time to enjoy a relaxing evening. We had an dinner at the buffet rather than our later seating, so we could catch the early show on the ship that night, comedian Tom Briscoe. Gotta say, I'm not always the biggest comedian fan, but this guy seriously cracked me up… best show we saw on the ship.
While the cruise may not have had the most auspicious start, things definitely picked up with Edinburgh… all that was left was another day at sea, and another day in London!